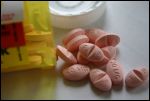 Danish hospital takes on green drugs
A Danish hospital has become only the second in the world to adopt a landmark environmental policy on pharmaceuticals first developed in Sweden.
---
The Board of Directors of the Hospital of Southern Jutland, Denmark, formally approved plans to begin work on green pharmaceuticals in December 2006, as one segment of a four-part environmental program beginning in 2007.

The policy, originally developed by Stockholm County Council (SCC) in Sweden classifies pharmaceuticals according to their persistence, toxicity and how easily they accumulate in the environment.

The purpose is to allow doctors to use environmental criteria when prescribing medication for patients, so that given a choice between two equally appropriate drugs they can choose the one with the least impact on the environment.

"Although we have had lots of interest in the system from other countries as well, this is the first hospital group to directly and definitely copy and use our system in their own hospital," says Ake Wennmalm, Environment Director for SCC.

SCC developed its green pharmaceuticals program in response to concerns about the effects on biodiversity and human health of the low levels of pharmaceuticals which are starting to be found in the environment.

Environmental work at the Hospital of Southern Jutland dates back to 1988 when they began work on saving energy. More recent work has involved implementing advanced waste management systems, and even redistilling used ethanol from the Pathology Department to sell back to paint production firms.

The hospital is also implementing green procurement policies to improve the working environment in the hospital whilst reducing resource consumption and pollution.


---
Go to top
Go to Homepage
Health Care Without Harm