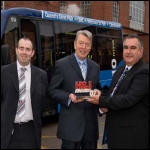 Six sustainability gains from award-winning UK hospital
Running a free bus service and turning clinical waste into building material are just two of the improvements which won Nottingham University Hospital (UK) the 2007 Health Service Journal Sustainability Award.
---
UK Department of Health guidelines, which state 90% of clinical waste can be treated with non-incineration technology, led Nottingham University Hospital to develop an initiative to turn clinical waste into building material in a local plant.
Opened in early 2008, the plant takes clinical waste and rotoclaves it before moulding it into bricks, pipes and other objects. The nearness of the plant saves 50,000 road miles per year, and the rotoclave avoids the pollution that would come from the incineration of the waste.
Non-incineration technologies such as rotoclaves allow clinical waste to be recycled after treatment. Metals can be extracted and the rest, which is significantly less hazardous than incinerator ash, made into building materials.
The Trust has also saved 180,000 GBP in taxi fares and cut staff car journeys by 400,000 per annum by running a free bus service between Nottingham's two hospitals. The service links up with other public transport providers and runs a service once every ten minutes, making it one of the largest independent bus operators in Nottingham.
Other transport gains come from redesigning the hospital menu to allow for seasonal food supply. By engaging with local partners, the hospital has boosted the regional economy and is now sourcing 95% of its meat and 100% of its milk from local sources.
The hospital has identified being able to bridge the gap between the NHS and local suppliers as key to success in sustainable food procurement – also identified as a vital factor by other hospitals with success in this area. Partnership with local authorities was also of highest importance.
The 2008 Health Service Journal Sustainability Awards will be held on 1 December at Grosvenor House Hotel, Park Lane, London. Entries for 2008 are closed.
---
The Six Sustainability Gains at Nottingham University Hospital
Waste management

Rotoclaving and recycling clinical waste instead of burning it
Reduce waste transport by 50,000 road miles per year
Transport
Saving 180,000 GBP per year in taxi fares
Cut staff car journeys by 400,000 per year
Food
95% of meat and 100% of milk from local suppliers
Engagement with local partners boosts regional economy
---
Go to top
Go to Homepage
Health Care Without Harm